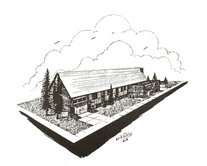 Our Mother of Perpetual Help Parish is a welcoming, vibrant, faith-filled community dedicated to living and communicating the message of the gospel by providing opportunities for spiritual growth, developing committed leaders, and reaching out to others with God's love.
St. Patrick's Parish is a welcoming Christian community reaching out to all who seek God. We joyfully live, renew and share our Catholic faith through worship, prayer and service, especially to those in need.
OMPH and SAINT PATRICK'S PARISHES are open for all Masses. We are able to have as many parishioners attend Mass as are able to socially distance. Please note that masks are still required.
What's New
Bulletin
Sunday Masses on Facebook
Weekend Mass Schedule  
Site donated by Buffam Leveille Funeral Home in Haileybury