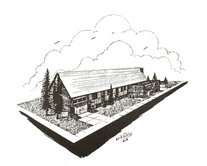 Our Mother of Perpetual Help Parish is a welcoming, vibrant, faith-filled community dedicated to living and communicating the message of the gospel by providing opportunities for spiritual growth, developing committed leaders, and reaching out to others with God's love.
St. Patrick's Parish is a welcoming Christian community reaching out to all who seek God. We joyfully live, renew and share our Catholic faith through worship, prayer and service, especially to those in need.
Please note that St. Pat's and OMPH will be closed until further notice. For more information regarding the lock down, please check our Facebook page. The 11AM Mass on Sundays and the weekday Masses will be live-streamed on our Facebook page and then available to watch later on both Facebook and Youtube. Our Facebook page is https://www.facebook.com/OMPH.NL/. Weekend Mass intentions will need to be re-scheduled, we must have a Sunday Mass for the parishioners and their needs.
Fr. Wayne and Deacon Larry will distribute Communion on Sundays, during the lock-down, from 12PM to 1PM outside the main Church doors. Parishioners will line up on the sidewalk, masked and socially distanced, and receive Communion in front of the church doors, then return to their vehicles.
OMPH will allow parishioners to attend weekday Masses, but you must register as we are only able to have 10 people in the church and this includes Fr. Wayne. To register, please call or email the office.
What's New
Bulletin
Sunday Masses on Facebook or Youtube
Weekend Mass Schedule  
Site donated by Buffam Leveille Funeral Home in Haileybury