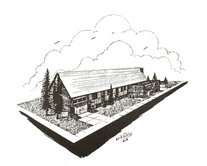 Our Mother of Perpetual Help Parish is a welcoming, vibrant, faith-filled community dedicated to living and communicating the message of the gospel by providing opportunities for spiritual growth, developing committed leaders, and reaching out to others with God's love.
St. Patrick's Parish is a welcoming Christian community reaching out to all who seek God. We joyfully live, renew and share our Catholic faith through worship, prayer and service, especially to those in need.
"Ontario Premier Doug Ford has just announced that the province will be in lockdown until at least Saturday, January 23.
1. Weddings, funerals and other religious services will only be possible with groups of no more than 10 people (including the priest).
3. Consequently, Masses will be offered in limited settings; if media transmission can be foreseen, it would be a good idea to take advantage of it.
4. Churches should be open again February 13, but we will await final word from the province."
Serge Poitras, Bishop Timmins
OMPH and St. Pat's will be closed until at least Saturday, February 13. Sunday Masses will be live-streamed at 11AM on Sundays. Weekday Masses will be live-streamed from Tuesday to Friday at 11AM.

CORONAVIRUS UPDATE: COVID protocols
OMPH celebrates Masses at 9:00 A.M. and 11:00 A.M. on Sunday, by registration only. Register by emailing omphoffice@gmail.com or phoning the office on Wednesdays. Please note that parishioners must register every week.
St. Pat's Parish will have weekend Masses on Saturdays at 5PM. Parishioners will be welcomed on a first come, first serve basis.
What's New
Bulletin
Sunday Masses on Facebook or Youtube
Weekend Mass Schedule  
Site donated by Buffam Leveille Funeral Home in New Liskeard